Glenfarclas 15 Review: Nice Light Flavours
on Jun 29 in
Scottish
,
Single Malt Whisky
by
dan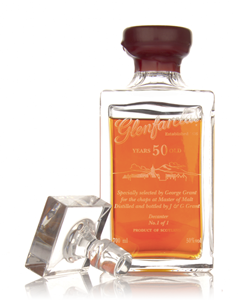 Glenfarclas 15: A solid whisky with some nice flavors. It's not very confrontational, its quite sweet but still has attractive qualities.
I am going to admit it right from the get go, I purchased this whisky to be in with a chance to win a much more expensive bottle of Glenfarclas (pictured right), there you have it, It is no longer a dirty secret!
Also I admit I bought the Glenfarclas just one up from cheapest possible, partly because I didn't want to look cheap ("to who? I know.") and also I figured the Glenfarclas 15 would probably be better than the younger Glenfarclas and if i was going to buy one it might as well be a older better one. Plus I've got a bit of a sherry cask habit at the moment.
Nose: Intense and powerful sherry aroma. Cream sherry, certainly – Pedro Ximenez? almost… a touch of peppermint? An almost rancio quality to this. Smells older than 15.

Palate: Raisins, more sherry, orange peel, walnuts and dates.

Finish: Incredibly long, complex, more of the Walnuts again.

Overall: Water draws out the sweetness. This is Christmas cake, not whisky. Simply astonishing.
Glenfarclas 15 Review
So what is the Glenfarclas all about then? On the bottle John L.S Grant extols the virtues of 170 years of tradition and experience that goes into family made Speyside single malt.
This is bottled at 46% for whatever reason, so I've watered it down a atd to bring it to a more pleasurable nosing and drinking ABV. It's sweet, creamy smooth and sherry-ful. It's very, light with bitter Curacao orange peel notes that remind me of some Belgian wit beers.
It drinks very well neat but also very nicely with lemonade if that is your kind of thing.
Its pretty good actually, Glenfarclas is a solid single malt scotch whisky with some nice flavors in there, particularly the sherry. Did I regret buying it? Not at all.
See the latest post from whiskytimes about Glenfarclas on the post I wrote about Glenfarclas 1953.