Win a £3,995 bottle of Glenfarclas
on Mar 02 in
Single Malt Whisky
by
dan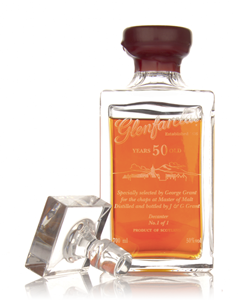 Following on from our "avoiding fathers day tat" post, we seen this competition from Masters of Malt and thought it might apeal to you readers who know its good to give, but its also good to recive. And recieve you shall, as masters of malt are giving you a 1 in 500 chance of winning a uber whisk worth £3,995 if you buy your old man a bottle of Glenfarclas.
To celebrate Father's Day 2011, we're offering you the chance to win the ultimate Glenfarclas prize. We're giving away a one-of-a-kind decanter bottle of 50 year old single cask Glenfarclas, bottled especially for us – the chaps at Master of Malt.

This is an absolutely astonishing whisky with RRP of £3,995, selected personally by Glenfarclas' George Grant! Click here to read more about this stunning single malt.

For a chance to win, simply purchase any 70cl bottle of Glenfarclas from our site before Father's Day (19th June 2011). You will receive one entry per bottle you buy (so if you buy 6 bottles you'll get 6 entires), but hurry as there are only 500 chances to enter, and they're likely to sell out fast!
http://www.masterofmalt.com/glenfarclas-whisky-competition/?utm_source=database&utm_medium=email&utm_content=topaddtobask&utm_campaign=glenfarclasgiveaway
Being relative new comers to whisky, we havent' tried any of the ones you have to buy to get a chance at winning, but it is aweful tempting competition isn't it?
You have to imagine they are going to shift a lot of the 10 years old at 28 quid! I'm having a go!